scroll down for english please!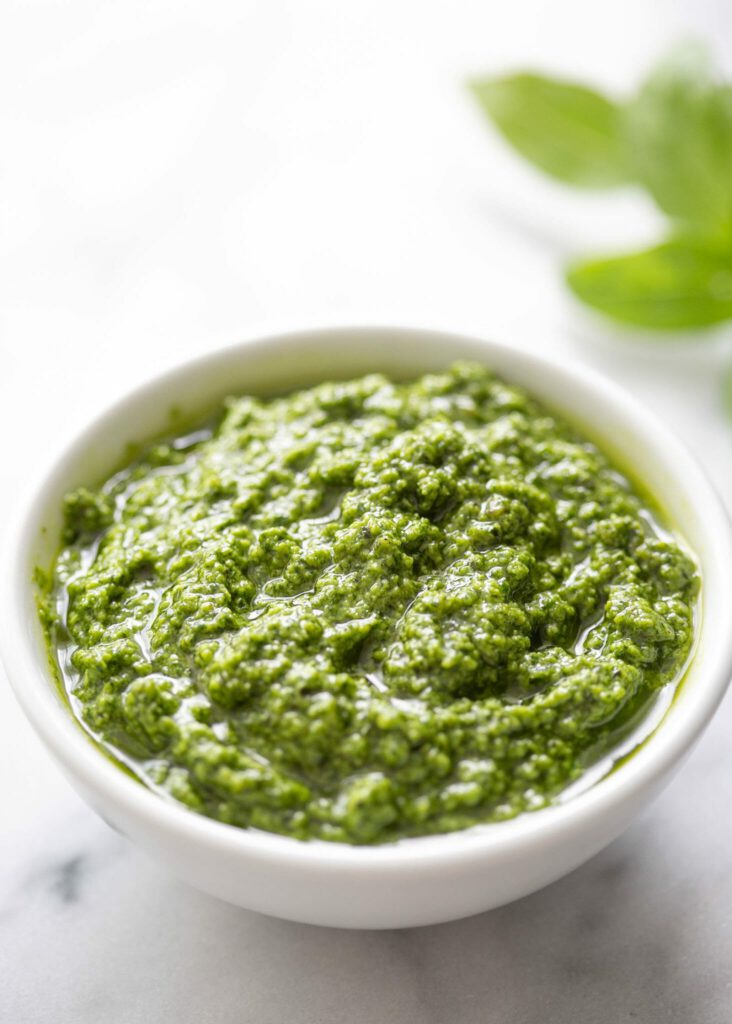 Hausgemachtes Pesto alla genovese mit viel Liebe für 3-4 Personen
Zutaten:
Basilikum (3 Bund)
Pinienkerne (50gr)
Pecorino Romano geriebnen (50gr oder mehr je nach Geschmack)
Parmiggiano Reggiano gerieben (50gr oder mehr je nach Geschmack)
2 große Knoblauchzehen 
Natives Olivenöl ( so viel, dass es geschmeidig wird, also sehr viel)
Salz
500 gr Nudeln ( aus Hartweizengrieß)
Mixen Sie alle Zutaten mit Pürierstab, indem Sie mit Basilikum un Öl anfangen.
Fügen Sie nacheinander, die anderen Zutaten hinzu und dazwischen immer Olivenöl dazugeben, damit die Masse selig wird.
Am Ende mit Salz abschmecken.
Die Nudeln werden nach Anleitung in gut gesalzenem Wasser gekocht.
Kurz vor Ende der Kochzeit, entnehmen Sie eine große Kelle Nudelwasser und vermischen Sie es mit dem Pesto.
Nudeln abtropfen lassen, (bitte nicht abschrecken!) mit der Pestomasse in einer Schüssel vermengen, damit sich die Sauce um die Nudel legen kann.
Guten Appetit
Bitte das Pesto Kühl und Trocken lagern, Ober muss immer ein Film aus Olivenöl sein, damit das Pesto lange hält.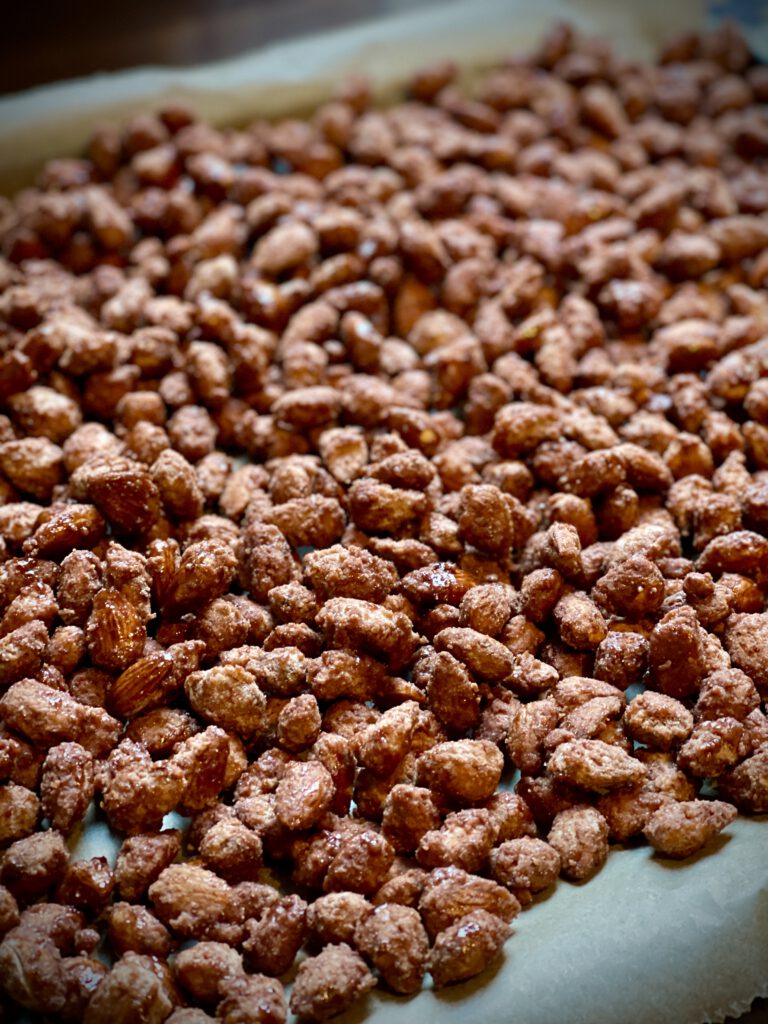 Gebrannte Mandeln
120 g Zucker
1 Pck. Vanillinzucker
½ TL Zimt
1 Prise Kardamom
200 g geschälte Mandeln
Zucker, 100ml Wasser, Vanillinzucker und Gewürze abwiegen und in die Pfanne oder den Topf geben. Die Pfanne sollte einen hohen Rand haben, alternativ lieber einen Topf verwenden.
Zuckerwasser zum Kochen bringen und solange kochen, bis der Zucker im Wasser komplett gelöst ist. Mandeln hinzugeben. Zum Karamellisieren sollte die Temperatur im Topf jetzt mindestens 150 °C betragen – sonst tut sich leider gar nichts. Verrühre die Mandeln mit der Zuckermasse, sodass sie überall gleichmäßig damit bedeckt sind.
Nach einiger Zeit löst sich die matte Zuckerschicht und der Zucker karamellisiert. Dieser Vorgang kann bis zu 8 Minuten dauern. Achtung: Nicht zu dunkel werden lassen da das Karamell sonst bitter schmeckt.
Die Mandeln direkt auf ein vorbereitetes Stück Backpapier breit verteilen. Komplett erkalten lassen. Damit die Mandeln nicht haften bleiben, das Backpapier mit etwas Öl bestreichen. Mit genügend Abstand verteilen; so verklumpen sie nicht.
Homemade PESTO
Ingredients:
Basil (3 bunch)
Pine nuts (50gr)
Grated Pecorino Romano (50gr or more depending on taste)
Parmiggiano Reggiano grated (50gr or more depending on taste)
2 large cloves of garlic
Virgin olive oil (so much that it becomes pliable, so a lot)
salt
500 gr pasta (made from durum wheat semolina)
Mix all ingredients with a hand blender, starting with basil and oil.
One after the other, add the other ingredients and always add olive oil in between so that the mixture becomes blissful. Season with salt at the end.
The pasta is cooked in well-salted water according to the instructions. Just before the end of the cooking time, take a large ladle of pasta water and mix it with the pesto. Drain the pasta (please do not put off!)
Mix with the pesto mass in a bowl so that the sauce can wrap around the pasta. Good Appetite Please store the pesto in a cool and dry place, the top must always be made of olive oil so that the pesto lasts for a long time.
Roasted almonds
120 g of sugar
1 packet of vanilla sugar
½ teaspoon cinnamon
1 pinch of cardamom
200 g peeled almonds
Weigh out sugar, 100ml water, vanilla sugar and spices and add to the pan or saucepan. The pan should have a high rim, or use a saucepan instead. Bring the sugar water to the boil and cook until the sugar is completely dissolved in the water. Add the almonds. For caramelization, the temperature in the pot should now be at least 150 ° C – otherwise, unfortunately, nothing will happen.
Mix the almonds with the sugar mass so that they are evenly covered all over. After a while, the matt sugar layer will come off and the sugar will caramelize. This process can take up to 8 minutes. Caution: Do not let it get too dark, otherwise the caramel will taste bitter. Spread the almonds directly on a prepared piece of baking paper. Let cool down completely.
To prevent the almonds from sticking, brush the baking paper with a little oil. Distribute with enough space; so they don't clump together.